Firm founding partner, Reuben Guttman, has co-authored a text on pretrial advocacy with Rutgers Law School Distinguished Professor, JC Lore. The text is published by Wolters Kluwer and the National Institute for Trial Advocacy and is geared to practicing lawyers and law students.
Ninety percent of all civil cases never make it the jury; they are resolved through a pretrial process that is today the unsung forum for dispute resolution. Rather than teaching lawyers to abandon evidence and trial skills, Pretrial Advocacy does the opposite; it teaches lawyers that modern litigation is "front loaded" and cases must be prepared with the assumption that they will be tried. As the authors note, it is the rigor of the pretrial process that drives resolution. From the first client interview through motions practice, you will learn to effectively evaluate cases, draft complaints, conduct informal and formal discovery, prepare and respond to motions, negotiate with opposing counsel, and, if necessary, be ready for trial.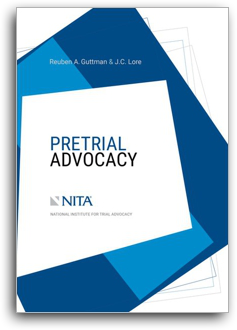 Pretrial Advocacy is the ideal textbook for law school clinics, law school pretrial litigation courses, and practicing lawyers. Both practical and theoretical, it teaches litigation as a process informed by rules and cases, but also by strategic considerations. Its hands-on and accessible text makes it a perfect reference for learning skills and a continuing reference. (Available in print and e-book here.)
Professors and students will benefit from:
Practical guidance for each step of representation, backed up by citations and references for deeper understanding of each topic
An accessible writing style that puts the needed information right at the reader's fingertips
Tips to foster the attorney's relationships with clients, opposing counsel, and the court
Available in print and e-book here.
Authors: Reuben A. Guttman & J. C. Lore